Basic sleeve pattern for dress with darts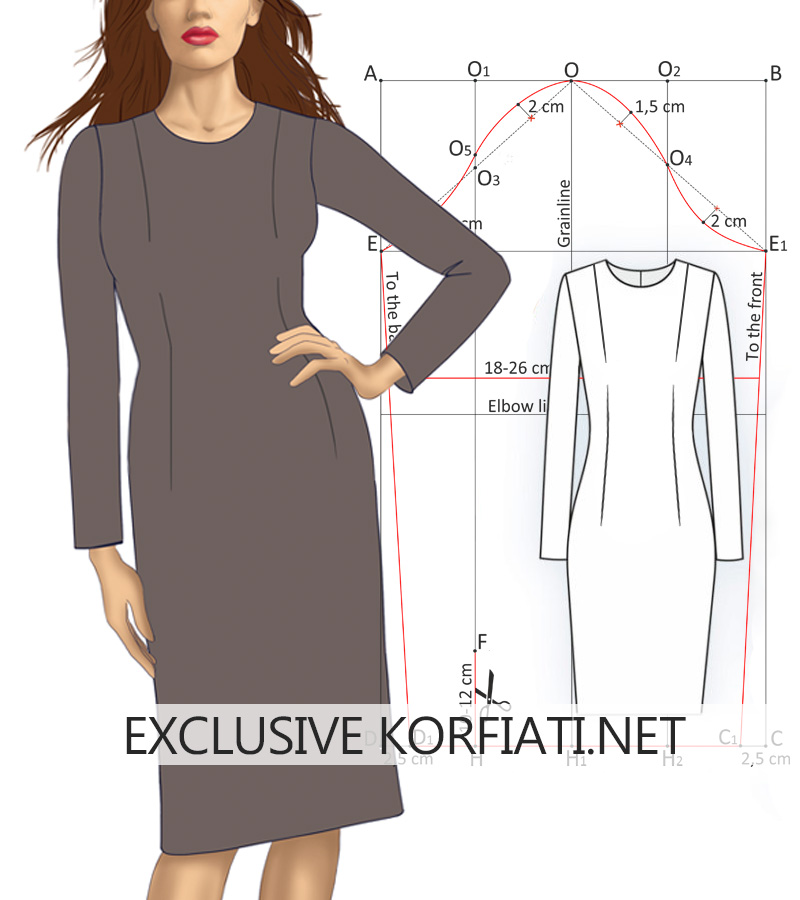 The basic one-seam sleeve pattern, presented in this tutorial, may be used for all types of women's garment – coats, jackets, dresses and blouses. To draw a pattern is a very simply. The main measurement is the Chest circumference.
In order for the sleeve doesn't get too fit, it's necessary to add an ease allowance to the pattern. Depending on garment style, you may change sleeve width, using more or less ease allowance for your sewing projects.
To contents ▴
What is the ease allowance for sleeves?
Ease allowance – is the difference between body measurements and those garment measurements. It's provides the movement comfort as well as design. Read more How much ease should a garment have
The sleeve width is the main measurement, which need ease allowance. Table 4 summarizes the allowances for sleeves. In the first column "Fit" select the sleeve silhouette (super-fitted, fitted, semi-fitted. loose fitted, very loose fitted). The allowance for the dresses are contain in the second column,  for jackets – in the third column, for the coat – in the fourth column.
The allowance to the sleeve length for the hem is about 3-4 cm (constant value).
To contents ▴
Basic sleeve pattern
Measurements, needs for Basic sleeve pattern (the Basic dress with darts, the same values):
Armhole length 20 cm
Bicep circ. 29 cm
Wrist circ. 15,5 cm
Sleeve length 61 cm.
Begin with top left corner of the sheet paper – this is point A.
Sleeve width. AB = DC = 33 cm (Bicep circ. according to the measurement + ease allowance from Table 4) = 29 cm + 4 cm = 33 cm.
Note. Sleeve ease may change according the fabric and garment style.
Sleeve length. AD = BC = 61 cm (sleeve length by measure).
AE = 3/4 Armhole length = 20: 4 x 3 = 15 cm. Draw a horizontal line EE1 from point E to the right until it intersects with the line BC.
Point O = 1/2AB.
O1 = 1/2 AO.
O2 = 1/2OB.
From points O, O1, O2 draw vertical lines O1H, OH1 and O2H2 to DC.
Elbow line. OK = 1/2 OH1.
Connect points E-O and O-E1 with dotted lines. Mark the points O3 and O4 at the intersections.
O3O5 = move up 1,5 cm.
Segments EO3, O3O, OO4, O4E1 split in half.
At an angle of 90° to the dotted lines, set aside: from EO3 move down – 0,5 cm, from O3O move up – 2 cm, from OO4 move up – 1,5 cm, from O4E1 move down – 2 cm.
Use a curve to draw the cap sleeve. Connect points E – 0,5 – O5 – 2 -O – 1,5 – O4 – 2 -E1 as shown on diagram.
DD1 = CC1 = 2,5 cm (decrease in sleeve width at the bottom). Connect points E-D1 and E1-C1.
Placket position. HF = 10-12 cm.
Copy the sleeve pattern to the paper and cut with the seam allowance (1,5 cm to all sides, 3-4 cm to hem) as shown on Pic. 3.
You might be interested in: