Ease allowance of garments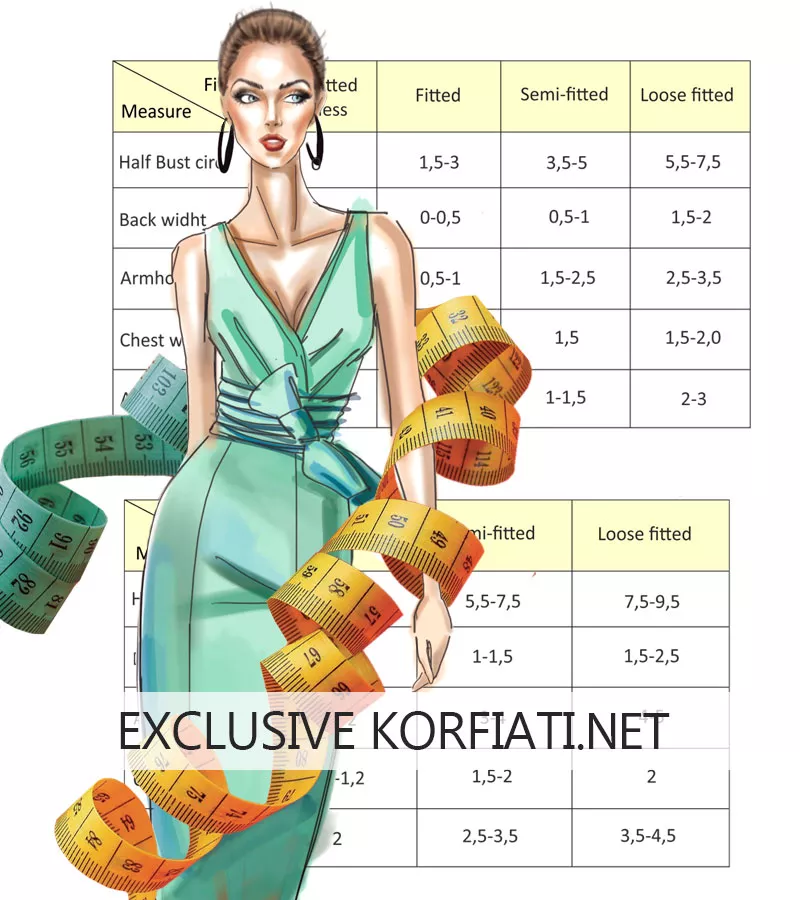 In order to sew a quality garment, necessary to take account many factors. One of the most important is the fit.
Ease allowance – is a fundamental element in pattern making. After taking measurements, the tailor first ease calculates.
What are the ease allowance for?
Ease allowance – is the difference between body measurements and those garment measurements. It's provides the movement comfort as well as design.
Use measurement Hip circumference for calculate ease allowance for skirts and trousers.
Use measurement Bust circumference for calculate ease allowance for dresses, blouses, jackets, coats etc.
In addition, consider that sleeve length, sleeve width and neckline are the parts which need ease allowance too.
The allowances differ in their purpose, the main ones are:
The minimum ease – for comfortable movement, breathing, etc. Depends on material from 0 to 2 cm.
For the clothing package thickness – this allowance takes into account the thickness of the lower layers of clothing and is calculated for jackets and coats. For garment such as blouses, dresses, T-shirts, etc., this increase is not required. The ease is already included in the tables and is not calculated additionally.
On the insulation – an ease is added additionally when making garment with insulation and is calculated by the formula: 6.28 x h, where h is the thickness of the insulation.
Silhouette allowance – depends on the silhouette of the model, style and size.
Technological allowance (added to ironing shrinkage textile).
Use the table (tables 1-4) reference to add the appropriate ease allowance. Table 1 summarizes the allowances for dresses and blouses. All measures on tables are listed in centimeters.
Table 2 summarizes the allowances for jackets.
Table 3 summarizes the allowances for coats.
Table 4 summarizes the allowances for garments sleeves.
You might be interested in: